CHAOS —
Luminaire
Granite & pâte de verre 2019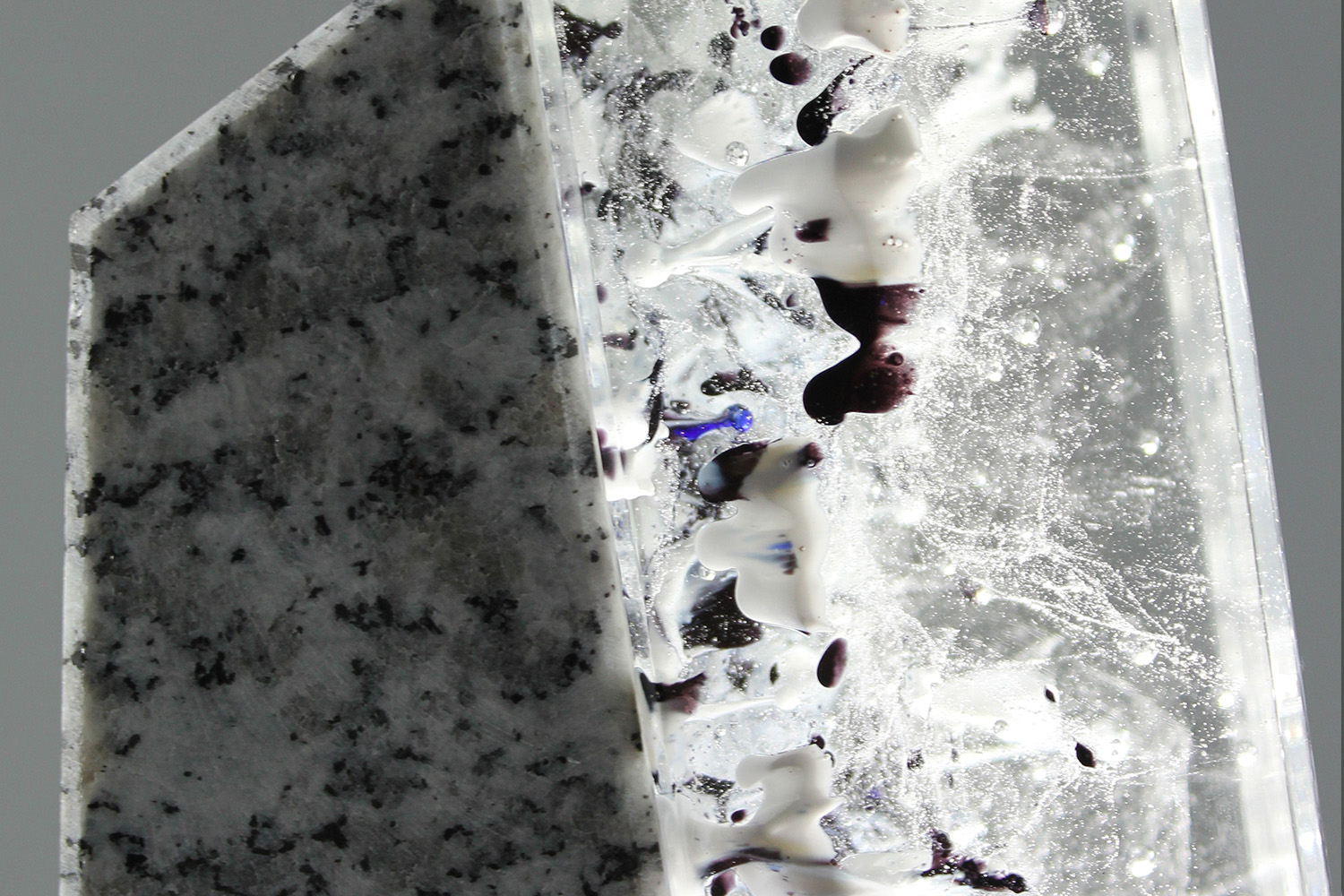 The CHAOS luminaire is inspired by natural heritage of Sidobre's territory. This singular landscape is characterised by atypicals granite's balls, created thanks to the erosion of this mineral deposit.
The idea is to interpret this natural rock formation, also known as CHAOS, in a functionnal object. Two granite's blocks are creating the luminaire base : the first one acts as a pillar to construct a vertical shape, the other one integrates a light system and support glass masses.
Pâte de verre techniques enable to create complex patterns and effects in a glass mass. Colored glass grains are fused in order to traduct Sidobre's granites components : quartz, mica and feldspar. Once light passing throught it, glass's blocks evokes the granite's formation, which look like a magma of molten rocks.
.
Le luminaire CHAOS s'inspire du patrimoine naturel du territoire du Sidobre. L'érosion de ce gisement permet d'observer des dégagements de boules de granites atypiques qui caractérisent ce paysage singulier.
Le luminaire interprète ce principe de formation rocheuse naturelle, connu sous le nom de CHAOS, au sein d'un objet fonctionnel. Deux blocs de granite constituent la base du luminaire : la première agit comme un pilier qui permet à l'objet d'adopter une attitude verticale, la deuxième intègre le système lumineux et permet de soutenir des masses de verre.
La technique de la pâte de verre permet de composer des motifs complexes au sein du verre. Des grains de verres colorés fusionnent afin de traduire les composants du granite du Sidobre : le quartz, le mica et le feldspath. Une fois traversée par la lumière, ces blocs de verre évoque la formation du granite qui s'apparente à un magma en fusion.
Edition : Association granit et pierres du Sidobre.
Design : Gaëtan Didier.
Partenaires : Senegas Gérard (81).
crédit photographique : © Gaëtan Didier.